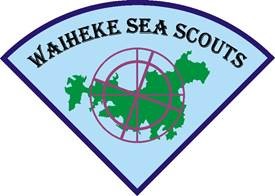 Donate to Waiheke Sea Scouts
Thank you kindly for your interest in donating to the Waiheke Sea Scouts.
We are a registered charity and your donation is especially important to us because we largely survive on the generosity of others.
You can make a small financial donation on the form below.  For larger donations, bequests or land / property or other donations, please do get in touch with Waiheke Sea Scouts committee here.
All donations go towards current fundraising efforts, that will directly benefit our youth members from KEAS through to CUBS, SCOUTS and VENTURERS.
We always need funding for some or all of the following:
To purchase new equipment;
For the maintenance of existing equipment;
Towards the upkeep of our assets;
For special trips / events;
For something specified by you when you donate (e.g. a particular event or item)
Donations are tax deductible and you will receive an email receipt and thank you confirmation.
Please do feel free to let us know in the notes section below how we may honour your donation or bequest.
We would like to thank you for your consideration.
How To Donate to Waiheke Sea Scouts
Select amount to donate from dropdown below (choose "custom amount" if preferred)
Press Make Donation (blue button)
Fill in Billing Details
Make Payment
Receive Thank You email (and a tax receipt)
If you have any issues or questions, please contact us
—
From:
$

25.00
Select options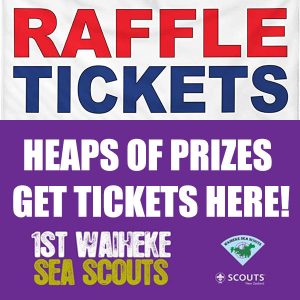 Purchase Raffle Tickets
The Waiheke Sea Scouts is part of NZ SCOUTS and currently has around 75 Waiheke kids between the ages of 5 -15 who are all learning about everything from the sea & sailing to camping & the environment, and becoming awesome, confident adventurers and members of our community.
We are fundraising for various camps and equipment needed for the group for example:
Boats and related equipment such as life vests and wetsuits, parts for maintenance.
Camp equipment that needs replacing or maintaining.
Travel and food costs towards camps (usually several per year)
===================
2022 raffle coming soon TBA :-)
MEANWHILE – would you like to make a donation to the Waiheke Sea Scouts? 
===================
Each Ticket is priced @ $2.  Purchasing $10 will give you 5 entries, $20 = 10 entries etc.
BONUS ENTRY OF ONE FREE TICKET PER EACH $20 SPENT
All Entry Terms and PRIZES are listed below.
Purchase a Raffle Ticket
Be In To win AND Help Waiheke Sea Scouts
Select amount to buy from dropdown below
Press Add To Order (blue button)
Fill in Billing Details
Make Payment
Receive Thank You email
Your details will be automatically entered into the prize draw
Winners will be contacted and results posted online per dates below
If you have any issues or questions, see below contact details
From:
$

10.00
Select options