The fees for the Scouting year are shown below.  These fees are made up of a proportion that is a levy charged by SCOUTS New Zealand, along with the remaining fee going towards covering the running costs for the Group. Waiheke Sea Scouts must pay a set fee per term to SCOUTS NZ for each member.  Our group receives a small amount from each payment and it's never enough to cover the costs in terms of maintaining our property and equipment – therefore, any additional donation is also welcome, should you wish to do so.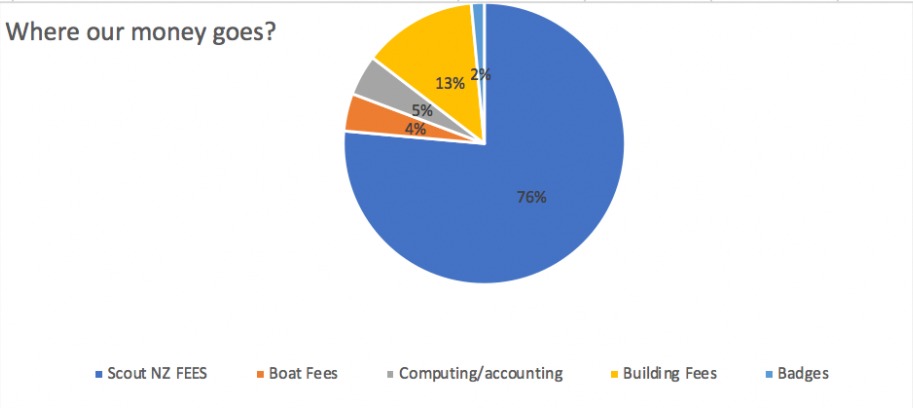 We do seek grants and funding to cover repairs and maintenance costs and new purchases where these are required.  We would be delighted if you can spare an hour or two each year to help fill in application forms and follow up fundraising opportunities., just ask!
In addition to the fees, members are also expected to pay for e.g. badges and special events during the year, such as camp – as those are all optional.
Invoices for fees are sent out each term (quarterly) after you have completed your registration.
| | | |
| --- | --- | --- |
| Group | Fees (as at Feb 2020) | Fees (From Feb 2021) |
| Keas | $80 per term | $TBA  ** |
| Cubs | $90 per term | $TBA  ** |
| Scouts | $110 per term | $TBA  ** |
| Venturers | not currently running | $TBA  ** |
Notes On Fees:
From Feb 2021 there will be an increase in fees – this has yet to be decided by the Committee
Fees are generally payable in four instalments (e.g. on or before the beginning of each term, or pro-rata during the term).  You may also pay the entire year.
Fees are non-refundable, even if you cancel or decide to leave part way through the term (except in exceptional circumstances).
Please contact the Group Leader, Group Committee Chairperson or Treasurer if you have financial difficulties in paying your child's fees.
TBA  **  – Fees for 2021:  Scouts New Zealand have increased the fees that each group must pay.  Therefore we will have no choice but to pass on these increased fees accordingly.  We expect fees to increase from term one 2021 but have yet to ratify this at the committee.  Feel free to let us know your thoughts!
Payment of Fees
Invoices are generally sent at the beginning of term – so please DO NOT deposit funds into our account without an invoice as we may not be able to track your payment.  We are providing our bank account details here only for incidental payments where they might be necessary (and for donations!)
Our Bank Account:
020 108 0013102 000   ::  Waiheke Sea Scouts
In the reference fields, please quote your child's surname and initial, followed by any comment e.g. "donation" or "camp xyz"
Buying Uniforms
You can purchase the Sea Scouts uniform from the Scouts NZ online store
We generally recommend the following items:
Your child may achieve and be awarded other badges and may attend special events during the year. These can be purchased during the year as they are incurred.